What is Microblading?
Microblading is a semi-permanent cosmetic tattooing technique. However, unlike typical tattoos, which are applied with a tattoo gun, microblading uses a blade-shaped tool with a series of tiny, hardly visible needles to form hair-like strokes over your brows while depositing color into your skin. The result? Lifelike brow hairs that last up to a year or longer.
Microblading is the implantation of pigment into the skin. This treatment is often suggested for people who have flaws or sparse hair in the brow area. Microblading allows you to create brows with specific colors and textures in a technique similar to permanent makeup. Applying one hair stroke at a time makes the eyebrow look full, yet still natural.
Here at Brazilian Silhouette, we delight in providing you with a relaxing and thoughtful microblading experience. To learn more about the process, keep reading!
How Does Microblading Work?
First, the practitioner talks with the client about what they want to change about their brows. Following a thorough examination, the technician will design a personalized design and draw the new brows to offer a depiction of the new brow/s, which may be changed if necessary. If the patient agrees and is ready to proceed, the technician will administer a topical anesthetic and begin the pigment implantation according to the drawing's outline.
Length of the Microblading Process
One treatment session typically lasts an average of one hour and fifteen minutes in total. To completely numb the eyebrow region, the application of the local anesthetic must be left on for approximately thirty minutes. It is common to need more than one session of microblading for minor touch-ups, each of which can take up to an hour.
Types of Microblading
There are two types of microblading: aesthetic and medical. The two have the same end result, what sets them apart is the reason behind why the process is being done.
Aesthetic Microblading: The process of implantation of pigment in the skin motivated by reasons solely aesthetic, always depending on the will of the patient and the authorization of a properly trained professional.
Medical Microblading: Occurs due to a medical indication to correct flaws in the eyebrows, such as burns, flaccidity, and other problems.
Materials Used for Microblading
In the process of microblading, your technician will use a device known as a dermograph, commonly utilized for sensitive and delicate work. The pigment is then applied using a microblade that was specifically made for this purpose.
This device has eliminated the possibility of scarring after the microblading procedure, resulting in a more natural look overall. When it was first introduced, microblading was a more invasive procedure that left permanent markings on the skin.
Microblading Treatment Post + Pre Care
Pre-Treatment Care: There are not many rules to follow except NO alcohol or any blood thinning medication before the treatment. It's wise to be gentle on your skin before treatment, avoiding things like waxing, retinol treatments, botox, and tanning.
After Treatment Care: It's recommended that the patient cleans the brows for the first two days with the prescribed solution and makes use of the healing product that will also be given out (courtesy of Brazilian Silhouette) for a minimum of two weeks.
Frequently Asked Questions about Microblading: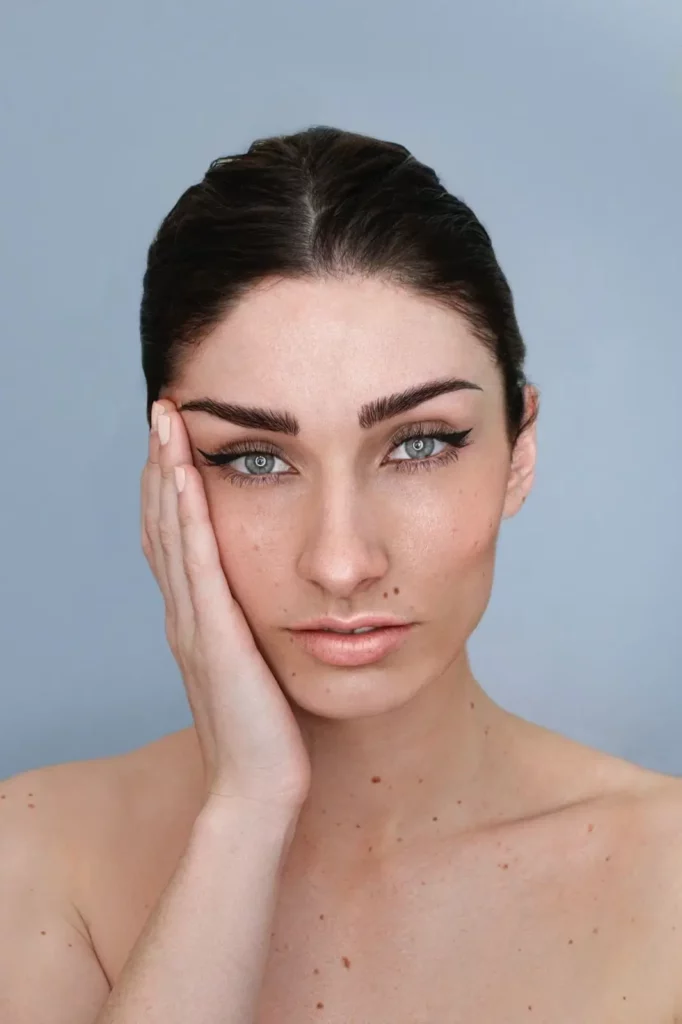 Is Microblading a Tattoo?
Microblading is a form of tattooing; however, unlike traditional tattoos, it does not leave a permanent mark on the skin. Traditional tattoos have highly concentrated tattoo ink, whereas cosmetic tattoo ink contains smaller pigment particles. Not only are the "inks" used in the two procedures different, but the tattoos are also applied differently. When you receive a microblading treatment, the pigment is put on the surface of your skin instead of the deeper layers. This surface-level treatment allows your body to gradually metabolize the pigment, which causes it to fade away over time.
Because of the pigment and method used, the semi-permanent "tattoo" produced by microblading has a softer and more subtle appearance than typical tattoos, which have a more opaque and vivid appearance. When the pigment on your microblade starts to fade, it may lighten by one or two shades from its original color. A regular tattoo on your body may take on a bluish-green hue as it begins to fade, which can be seen more clearly as the tattoo ages.
Are There Risks Associated With Microblading?
Everyone who desires or requires microblading can get it. There is no indication of allergic reactions to a microblading treatment, nor are there any tests that reveal any indicators of health problems following this treatment. However, it is not suggested that this microblading be carried out on individuals with anemia or who use a pacemaker.
It is important to remember that microblading is suitable for all skin types, including oily skin and more sensitive skin.
Before you come in for your first session, a standard permission form must be filled out to cover the matters mentioned above.
How Painful is Eyebrow Microblading?
The degree of pain you experience during microblading will depend on your unique ability to deal with pain and will vary from person to person. However, the pain associated with microblading is comparable to that of a cat scratch. In general, you should anticipate that the pain will be unpleasant, but it won't be intolerable.
However, there is nothing to fear! Before beginning the procedure, your brow technician will apply a numbing gel all over your brows. They may also apply an additional layer of gel in between each pass.
How Long Does Microblading Last?
Microblading can last anywhere from 12 to 18 months, but the pigment's longevity will depend on your skin type. People with normal skin can use one eyebrow treatment without needing another for up to 18 months; however, those with somewhat oily skin likely require another application after around 12 months.
They will soon fade if you do not maintain your microblading by filling them in approximately every 18 months. Because the pigments used do not cause discoloration or scarring, it wont be obvious that you let them wear out on their own.
Retouching is typically required since the process often does not provide ideal results in a single session. The retouching procedure should be performed between four and six weeks following the original microblading session. After the second appointment, you will probably not need any more touch-ups.
In Conclusion
Microblading is becoming more and more popular, for good reason! With little to no downtime and a relatively painless treatment, the 18 months of beautiful eyebrows are well worth it.
Whatever you desire for your eyebrow microblading treatment, we are here to help. If you want to make a microblading appointment, our expert technicians will happily assist you in creating your dream brow look! Book now using this link.